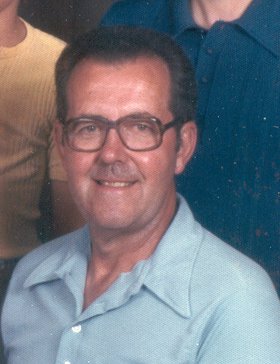 Robert B. Clark
unknown - October 3, 2011
Robert Bennett Clark, 89, of Liverpool, died on Monday Oct. 3, 2011. Bob was born in Venice Center, NY, the son of Gertrude and Ray Clark. He lived in Auburn until moving to Liverpool in 1953, and has been living with his daughter, Dona, for the past 15 years. Bob was a U.S. Army veteran of WWII serving in Europe from 1941-1945. He then worked for Bell Telephone of New York until retiring in 1986. He was very active in the (Bell) Pioneers retiree organization, traveled extensively in his RV, and was an avid golfer and bowler. He is predeceased by his wife, Shirley in 2006, son, Bobby in 1963, and his sisters, Shirley Riley and Grace Kanalley.
Bob is survived by his daughters, Dona Clark (Howard Evans) of East Syracuse; Patricia (George) Deloff of Baldwinsville; grandchildren, Jerry (Adrienne) Deloff; Mike Deloff (Helena Savinainen); Laura (Guy) Caylor; Tracy (Tim) Blumer; great-grandchildren, Noah, Carolina, Nick, Jake, Jessica, Michelle, Dylan, Riley, Audrey; nieces and nephews, John (Kathy), Patrick (Shelley), Tommy (Beth), Jamie (Donna), Rebecca, Sharon (Bill).
Funeral services: 10 a.m. Saturday Oct. 8 at the Maurer Funeral Home. Burial will follow in Woodlawn Cemetery. Calling hours: 5 to 7 p.m. Friday Oct. 7 at the funeral home, 300 Second St., Liverpool. Contributions in Bob's memory may be made to the Humane Assoc. of CNY, 4915 ½ West Taft Road, Liverpool, NY 13088.