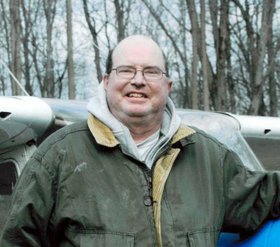 James R. Allen
unknown - October 1, 2011
James R. Allen, on Saturday Oct. 1, 2011, his 48th birthday, while surrounded by friends and family, passed away from cancer of the brain. Jim was dealt this awful hand a year ago.
Jim had an adventurous soul, a wonderful sense of humor and a love for animals. He would often travel to see family in Florida and Seattle and for adventures. He had fulfilled his goal of playing in the World Series of Poker and performed a comedy routine at Wise Guys.
Jim gave all his love to family and friends, who in turn loved him dearly. This includes his mother, Joan W. Allen; his father, Richard A. Allen, who passed away in 2004; brothers, David D. (Dianne), Philip E. (Lisa) Allen and sister, Julie E. Germano and her late husband, Michael R.; nephews, Timothy Allen, Dude Germano and Reese Allen; nieces, Jenny Germano Blanscet, Danielle Allen Unger and Kelsey Allen; their spouses and families, whom he loved as if they were his own children. Also included would be Jim's Labrador retriever, Clyde, his beloved friend and companion who passed away this spring.
As a testament to his devotion and loyalty to his friends, Jim was best man in five weddings and a groomsman in several others. He and his friends would get together regularly as Jim had the ability to host a great party. He loved to play poker. Jim was known to assemble a creative Halloween costume for his favorite holiday.
After graduating from North Syracuse High School in 1982 and from SUNY Canton in 1986, Jim worked for UPS and then for more than 20 years for FedEx as a delivery driver, where he made many great friends. It filled him with great joy when, this past summer, they put on a wonderful benefit in his honor.
In the course of the last year, there were many that supported Jim as he dealt with his illness. If he could, he would thank you all.
Services: 10 a.m. Saturday Oct. 8 at Fergerson Funeral Home. Calling hours: 4 to 8 p.m. Friday Oct. 7 at the funeral home, 215 South Main St., North Syracuse. Private burial will be in North Syracuse Cemetery. Donations may be made to Francis House, 108 Michaels Avenue, Syracuse, NY 13208. Memorial messages may be left at fergersonfuneralhome.com.