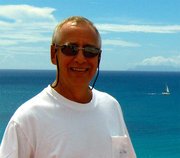 Terrence Clark Clark
unknown - November 26, 2011
Terrence Hill "Terry" Clark, 54, of Manlius, died peacefully on Saturday, Nov. 26, 2011, surrounded by his family after a brief illness. Born in Gillette, WY, he was predeceased by his parents, Robert Hill and Mildred Boehle Clark.
He was founder and CEO of WWWEnterprise, Inc. Bloomfield, N.Y., where he fulfilled his vision of becoming a computer entrepreneur and successful business owner. His brilliance and gift for seeing the positive in everything and his ability to teach and share his knowledge with others will forever be his legacy. He loved spending time in St. Maarten, fishing, and enjoying the outdoors.
He is survived by his loving wife Debra J. (Marchiante) Clark; identical twin brother Gerald R. Clark (Nancy T. Clark) of Newburgh, NY; sister-in-law Barbara A. (Gregory T.) Servetas of Trumbull, CT as well as several nieces and nephews.
Calling hours: 4 to 6 p.m. and a celebration of his life Friday, Dec. 2 at Eaton-Tubbs Fayetteville Chapel, 7191 East Genesee Street, Fayetteville, NY 13066. Private burial will be held at a later date in St. Libory, NE. For directions, florists or a guestbook, please visit scheppfamily.com. Arrangements by Eaton-Tubbs Fayetteville Chapel, Schepp Family Funeral Homes. Contributions may be made to St. Joseph's Hospital Foundation, 973 James Street, Suite 250, Syracuse, NY 13203.
Now he's gone– like a wave that crests, curls, and then crashes and washes softly out to sea, leaving its imprint on the sand.