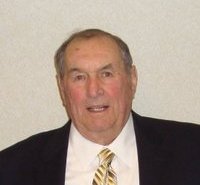 Bruce L. Yancey
unknown - November 28, 2011
Bruce L. Yancey, 80, of Fayetteville, passed quietly the morning of Nov. 28, 2011. Born in Brooklyn, Bruce graduated from Sewanaka High School in Floral Park, LI. While at Syracuse University, Bruce played football, was a three-year All American in lacrosse and two-year conference finalist in boxing. He was selected Athlete of the Year in 1954 when he graduated. He married his college sweetheart, Connie Beecher and they were married over 57 years. He served in the U.S. Air Force. Bruce was very active in the Fayetteville Manlius sports program, Boosters Club and Pop Warner football.
In addition to his wife Connie, he is survived by his daughters, Carol (Jim) Orlando and Sharon (Steve) Broaddus both of Virginia and Diane (Rodney) Irizarry of Georgia; son, Bruce Yancey of Manlius; sister, Gloria Wendt of New Jersey; eight grandchildren and three great-grandchildren.
Memorial service: 11 a.m. Saturday, Dec. 3, at Eastern Hills Bible Church in Manlius. Private burial will be in Earlville Cemetery. Calling hours: 4 to 7 p.m. Friday, Dec. 2, at Newell-Fay Manlius Chapel, 8171 Cazenovia Road (Route 92), Manlius. For directions, florists, or a guestbook, please visit scheppfamily.com. Contributions may be made to American Cancer Society, 6725 Lyons Street, P.O.B. 7, East Syracuse, N.Y 13057.