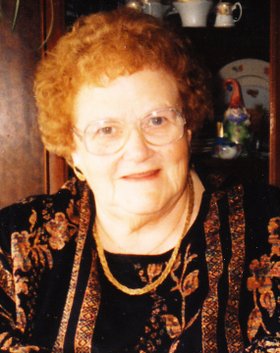 Laura Atkinson
September 17, 1921 - November 22, 2011
Laura Gibbons Atkinson, of Liverpool, passed away Nov. 22, 2011. She was born Sept. 17, 1921, in Cortland, to the late John and Lottie Gibbons of Truxton, N.Y. She graduated from Tully Central High School in 1940. She attended Syracuse Secretarial School until it closed during WWII. She was a member there of the Gamma Pi Chapter of Alpha Iota, an honorary business sorority. She finished her education attending Syracuse University. Laura was employed by Upstate Medical Center in clinical pathology for 24 years retiring in 1989. She enjoyed traveling all over the United States, especially Nashville, Las Vegas, and taking cruises. She is predeceased by her husband Charles W. Atkinson, a daughter, Ellen Atkinson, son, John D. Atkinson, a sister, Helena Grace and a brother James Gibbons.
Surviving are her daughters: Susan (Michael) Mulligan( with whom she resided) of Liverpool, Mary (Michael) LeFever of Camillus, Laura (Edward) Hall of Liverpool, 10 Grandchildren, 24 Great-Grandchildren , a great great-grandson and her brother Tom Gibbons of N. Syracuse. She is also survived by her stepchildren, Anna (Thomas) Grant of Toledo, Ohio, Naomi McCann of Chicopee, Mass., Violet Jean (Thomas) Lopez of Hacienda Heights, Ca., Rose (Charles) Anderson, of Knox, Pa., Charles Jr. of Hacienda Heights, Ca., and special friend of over 60 years Beverly Galaydick.
Mass of Christian burial: 11 a.m. Saturday, Nov. 26, in St. Johns Church, 8290 Soule Road, Liverpool. Burial will follow in St. Patrick's Cemetery in Truxton. Calling hours: 4 to 7 p.m. Friday, Nov. 25, at the Maurer Funeral Home Moyers Corners 3541 Rte. 31 Baldwinsville.