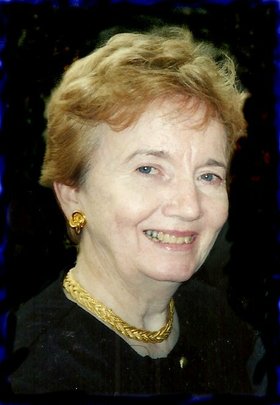 Grace M. Lowry
unknown - November 26, 2011
Grace M. Lowry, 81, of Liverpool, passed away on Saturday, Nov. 26, 2011. She was born on Oct. 7, 1930, in Scranton, Pa, to Donald and Mildred (Cavenaugh) Kelleher. Grace was a 1952 graduate of Marywood College and taught in the Scranton School District. She was also a teacher's assistant with the Liverpool Central School District for several years. Grace was a communicant at Christ the King Catholic Church where she was a CCD instructor and a member of the Women's group. She enjoyed winters in St. Augustine, FL, gardening, and the Clairmont Craft club. Most of all she enjoyed spending time with family and her many grandchildren.
Grace is survived by her loving husband of 56 years, Martin "Frank" Lowry Jr., sisters, Nancy (Joseph) Cunningham of Scranton, PA, Jean (Michael) Farrell of Florida, Kathleen (Neil) Donahue of Sayre, PA, sons; Frank (Tracy) Lowry of Mount Pleasant, SC, Donald (Carol) Lowry of Berlin, NY, Martin (Danielle) Lowry of Camillus, Patrick (Jennifer) Lowry of Ellicott City, MD, daughters: Mary Lowry of Syracuse, Ann (Ronald) Park of Somerset, PA, Kathi Lowry of Syracuse, thirteen grandchildren, and numerous nieces and nephews.
A Mass of Christian burial: 9:15 a.m. Tuesday, Nov. 29, from the Maurer Funeral Home 300 Second St., Liverpool and 10 a.m. in Christ the King Catholic Church, 21 Cherry Tree Circle, Liverpool. Burial will be in the Cathedral Cemetery in Scranton, PA at the convenience of the family. Calling hours will be on Monday from 4 to 7 pm at the funeral home. In lieu of flowers donations can be made to Covenant House, Times Square Station, PO Box 731, New York, NY 10108-0900.