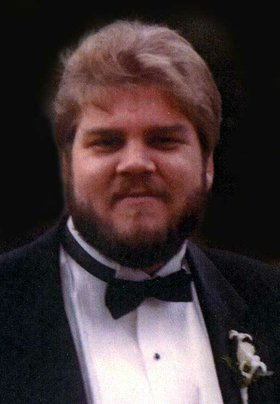 Robert Gildemeyer
unknown - November 3, 2011
Robert Gerard Gildemeyer, 54, formerly of Syracuse, passed away Thursday, Nov. 3, 2011, in Zephyrhills, Fla. Born in Syracuse on Monday, Aug. 26, 1957, Rob was a graduate of Christian Brothers Academy and attended Onondaga Community College.
Rob loved to golf and was a devoted husband, father, and son. He was a member of Lake Bernadette Country Club in Zephyrhills.
Surviving are his loving wife of 25 years, the former Karen Johnson; and daughter, Ann Marie, both of Zephyrhills, Florida; his mother, Jean Gildemeyer-Shaw of Syracuse; sister and brother-in-law, Mary Beth and Jack Clare of Camillus; brother and sister-in-law, Mark and Lauri Gildemeyer of Syracuse; and several nieces and nephews.
Rob was predeceased by his father, Harold Gildemeyer; and stepfather, Donald Shaw.
A memorial Mass was celebrated Wednesday, Nov. 23, at 10:30 a.m. in Blessed Sacrament Church, 3127 James St. in Eastwood. In lieu of flowers, donations may be made in Rob's memory to the Gulfside Regional Hospice, 5760 Dean Dairy Rd., Zephyrhills, FL 33542 or to St. Joseph's Church Food Pantry, 5316 11th St. Zephyrhills, FL 33542, Attn: Sr. Kathleen Lyons. Please share condolences at buranichfuneralhome.com.