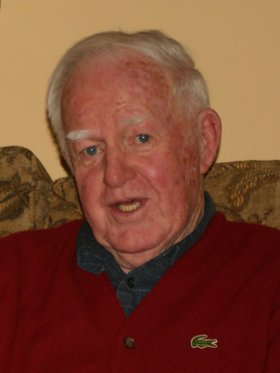 Joseph V. Murphy
unknown - November 21, 2011
Joseph V. Murphy, 84, of Fayetteville, passed away peacefully on Monday, Nov. 21, 2011, at Menorah Park Nursing Home. Joe was born July 14, 1927, in Staten Island, NY and was a graduate of St. Francis College in Brooklyn. He served with the U.S. Army during WWII. In 1958 Joe and Dot were married. Joe traveled the world as an export sales manager with Hoffman Air and Filtration Systems for 45 years. He and his family moved to Fayetteville in 1976. Joe was a communicant of Immaculate Conception Church, Fayetteville. He was predeceased by his siblings, John, Marge, Frank and Eileen; and grandsons, Matthew W. Murphy and Connor H. Murphy.
He is survived by his wife, Dorothy; his eight children, James, Joseph (Pam), Kevin (Carol), Robert (Claudia), Patrick (Kathleen), Timothy (Cynthia), Patricia (Michael) Winje, Karen (Christopher) Aquiline; his brother, Rev. Lawrence Murphy of Ephrata, PA; many grandchildren, nieces and nephews.
The Murphy family would like to extend a heartfelt thank you to the staff at Menorah Park who showed compassion, care and love to Joe and his family over the past few years.
Calling hours: 4 to 7 p.m. Friday, Nov. 25, at Eaton-Tubbs Fayetteville Chapel, 7191 E. Genesee St., Fayetteville. Mass of Christian burial: 10 a.m. Saturday, Nov. 26, at Immaculate Conception Church, 400 Salt Springs St., Fayetteville. Interment will follow at St. Mary's Cemetery in DeWitt.
For directions, florists, or a guestbook, please visit scheppfamily.com. In lieu of flowers, donations may be made in the memory of Matthew W. Murphy, Joe's grandson, to the Golisano Children's Hospital, 750 East Adams St., Syracuse, NY 13210.