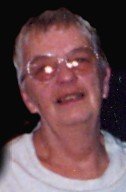 Anne B. Giddings
unknown - November 1, 2011
Anne B. Giddings, 79, of Canastota, left to be in the arms of our Lord and Savior on Nov. 1, 2011, after a brief illness. She worked as a hall monitor for the Cazenovia School District for many years, retiring in 1995. She is predeceased by her father, Edward B. Giddings and mother Camilla Hugg Giddings. A former resident of the Binghamton area, She had lived in Cazenovia most of her life moving to Canastota five years ago. Anne was a retired monitor for the Cazenovia Central School District.
She leaves behind her beloved best friend and her family, Jane Peer (Richard) of Cazenovia; her goddaughter, Laurie A. Peer of Canastota, Janey Humbert (Paulie), Godson William Hurd III (partner Sara), both of Florida; and many, many friends. She dedicated the last 14 years of her life loving and caring for 3 Wire Fox Terriers, Lucille, Lillian and Wallace. She had a huge heart and a great love of animals.
Funeral service was held at 11 a.m. on Wednesday, Nov. 16, at the Tait Funeral Home, Inc. 2333 Fenner Road, Cazenovia. Burial will be in Evergreen Cemetery. Calling hours were from 6-8 p.m. Tuesday, Nov. 15 at the funeral home. Contributions may be made to the CNY SPCA 5878 East Malloy Rd., Syracuse, NY 13211.