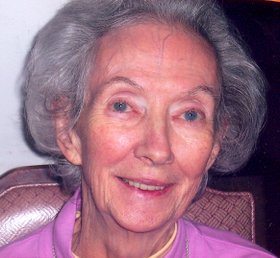 Harriet L. O'Leary
October 25, 1931 - November 15, 2011
Harriet L. O'Leary, 80, of Jamesville, passed away on Tuesday, Nov. 15, 2011, at The Nottingham. She was born on Oct. 25, 1931, the daughter of the late Timothy and Florence O'Leary. Harriet received a bachelor's degree from Case Western Reserve University, a master's degree from Radcliffe Graduate School and her PhD from the University of Cincinnati. She was a professor of French at LeMoyne College for over 25 years.
Harriet is survived by two cousins, Jean O'Leary Fiory, Florence Taylor Hand; and by many close friends.
Funeral Services: 10 a.m. Monday, Nov. 21, at Holy Cross Church. Burial will be in the family plot. Calling hour: 9 to 10 a.m. Monday at the church, 4112 E. Genesee St., DeWitt. For a guestbook, please visit scheppfamily.com. Contributions may be made in Harriet's memory to LeMoyne College, 1419 Salt Springs Rd., Syracuse, NY 13214.