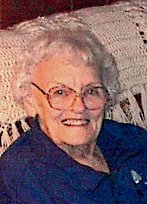 Mary Gilson
unknown - November 6, 2011
Mary Elizabeth (King) Gilson, 91, of Liverpool passed away on Sunday, Nov. 6, 2011, at Inova Fairfax Hospital in Fairfax, VA. She was born May 25, 1920 in Syracuse, NY to the late Robert A. King and Christina (Lindstrom) King. Mary graduated from Liverpool High School and was a lifelong advocate for the village.
In 1940 she married Liverpool native, George G. Gilson. In 1953, Mary and George (along with George's father, Irving R. Gilson) built their house at 404 Sixth Street, where they lived for over 45 years.
Mary worked for General Electric for 16 years, retiring as a process coordinator. During her time there, she met Ronald Reagan on a visit to GE in his role as host of General Electric Theater. She is featured in the Liverpool Legends Series produced by the Liverpool Public Library. After retirement, Mary and George enjoyed camping and traveling the country in their RV.
Mary was preceded in death by her husband, George, in 1998 and by her brother, Charles King. Mary is survived by her son, Irving Robert (Susan) Gilson of Vienna, Virginia; granddaughter Wendy (Scott) Bean and great-grandsons, Riley and Reed Bean of Lebanon, Indiana; and granddaughter Kimberly Gilson of Las Vegas, Nevada.
Interment will be in Liverpool Cemetery. Calling hours: 2-4 p.m. on Sunday Jan. 15, 2012, at the Maurer Funeral Home, 300 Second St., Liverpool. Contributions in Mary's memory may be made to the Liverpool Public Library.