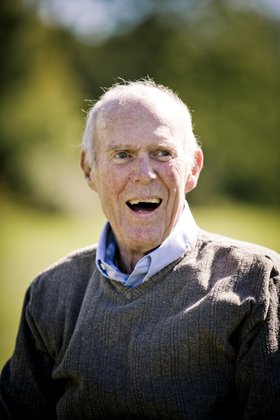 Dr. Richard D. Eberle
February 19, 1922 - November 11, 2011
Richard D. "Buz" Eberle, M.D., 89, passed away peacefully at his son and daughter-in-law's home in Otisco on Veterans Day, Nov. 11, 2011. He was born in East Orange, N.J., on Feb. 19, 1922, to William C. and Georgia Danforth Eberle, but spent almost his entire adult life in Central New York. Dr. Eberle grew up in Skaneateles and later attended Hamilton College and the Syracuse University College of Medicine (SUNY Upstate). He served in the Army Reserves after WWII at the VA Hospitals at Poughkeepsie and Staten Island, N.Y. As a general surgeon who cared deeply for patients, Dr. Eberle fought tirelessly for quality assurance and medical review. In his career he served as the president of the Medical Society for the State of N.Y. and for Onondaga County. He was the medical staff president at Community General Hospital, and chair of New York Delegation to the AMA. His compassion, warm manner and skill were a blessing to thousands of patients over his long career. Despite recovering from a recently fractured hip in the spring, he was thrilled this summer to be able to travel with many family members to one of his favorite places – Ballston Beach on Cape Cod.
He is survived by his wife, Patricia B. Eberle of Camillus; son William C. Eberle (Dagney C. Ernest) of Thomaston, ME; daughter Elizabeth Mudama (Eric) of Scottsdale, AZ; son Deya ud-Deen Eberle (Shahnaz) of Beltsville, MD; son John G. Eberle (Pamela) of Otisco; stepdaughter Jennifer L. Boltwood of LaFayette; 20 grandchildren and 9 great-grandchildren. He was predeceased by his sister, Jane Raleigh of Manlius; brother, William C. Eberle, a naval aviator who died in 1945 serving his country on the USS Hancock; stepson, David Boltwood; and daughter, Suzanne Stokes of Huntington Beach, CA.
Memorial service: 7 p.m. Monday, Nov. 21, at Grace Chapel, 1674 US Route 20 in Skaneateles. In lieu of flowers, contributions may be made in memory of Dr. Eberle to the Eberle Family Fund at the Central New York Community Foundation, 431 East Fayette Street, Syracuse, NY 13202. Designated gifts will support community health organizations in Central New York.
Memories and condolences may be offered at robertdgrayfuneralhome.com.