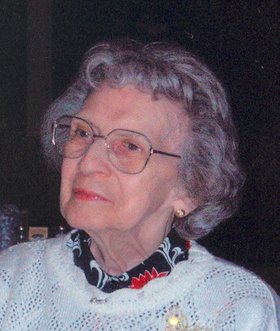 Virginia Noble
December 28, 1921 - November 11, 2011
Virginia "Ginny" Jamieson Noble, 89, of Manlius, passed away on Friday, Nov. 11, 2011, at Iroquois Nursing Home. She rests after a slow decline with Alzheimer's. She was born Dec. 28, 1921, to the late Frederick and Ida Babson. She resided in Manlius and was a member of the First Baptist Church for over 50 years. Her life was lovingly dedicated to raising her seven children. She also cared for several elderly women as a companion. She was preceded in death by husbands, Frank Jamieson and Gordon Paul Noble; a son Bruce Frank Jamieson; and a daughter Sharon Farrar Ausman.
She is survived by five children: Gary Jamieson and wife Gladys of Honesdale, PA, David Jamieson and wife Susan of Canastota, JoAnn Klinetop and husband Robert of Phoenix, NY, Scott Noble and wife Betsy of Charlotesville, VA, and Sheila Miceli and husband Nick of St. James, NY; as well as 12 grandchildren and 10 great-grandchildren.
Services: 2 p.m. Saturday, Nov. 19, at Manlius Baptist Church. Burial at Manlius Village Cemetery. Calling hours: noon to 1:30 p.m. Saturday at Newell-Fay Manlius Chapel, 8171 Cazenovia Road (Route 92) Manlius. Arrangements by Newell-Fay Manlius Chapel of Schepp Family Funeral Homes. For directions, florists, or a guestbook, please visit scheppfamily.com.