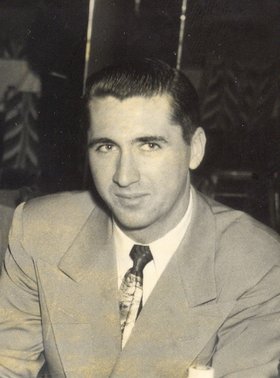 Dennis M. McCarthy, II
unknown - November 11, 2011
Dennis M. McCarthy, II, 82, passed away at his home in Manlius, Friday, Nov. 11, 2011, with his loving family around him. Dennis was a wonderful husband, loving father and grandfather and a devoted friend to all. Dennis graduated from the Christian Brothers Academy in 1947. He was inducted into the CBA Lasallian Athletic Hall of Fame in 2002. He also attended Manlius Military Academy as well as Boston College. Dennis served the country that he loved in the U.S. Army from 1953 – 1955. Dennis married the love of his life, Joan Vielehr. They were married for 57 years.
Dennis co-founded with his brother, Patrick, McCarthy Chevrolet-Buick in Oneida. Previous to that they owned a used car dealership in Syracuse, NY. Together the brothers spent over 55 years in the car business.
Besides his brother, Dennis is survived by his five children, Linda (David) Marnell of Fayetteville, Dennis (Sharon) of Miami, FL, twin sons, Mark (Claire) of Acton, MA and Tim (Carol) of Wilbraham, MA and Erin (James) Galloway of Lexington, MA. He also has fifteen grandchildren and several nieces and nephews.
He was predeceased by his wife, Joan (Vielehr) McCarthy and his sister Genevieve (McCarthy) Corbett.
As a proud father, Dennis loved all five of his children and was very supportive in their many sports. He was a member of the Cazenovia Country Club. Dennis was an avid golfer and gardener. He was a passionate traveler. Dennis loved spending time with his family and dog, Sam, and celebrating many Fourth of July parties on Cazenovia Lake. He was an avid sports enthusiast as a member of the Orange Pack following the football, basketball and lacrosse teams of the Syracuse University Orange.
Services: will be 9:15 a.m. Wednesday, Nov. 16, at Eaton-Tubbs Fayetteville Chapel followed by a mass of Christian burial at 10 a.m. at Immaculate Conception Church, Fayetteville. Burial with military honors will be in St. Mary's Cemetery, DeWitt. Calling hours: 4 to 7 p.m. Tuesday, Nov. 15, at the funeral home, 7191 E. Genesee St., Fayetteville. For guestbook, please visit scheppfamily.com. Contributions may be made to a charity of your choice.