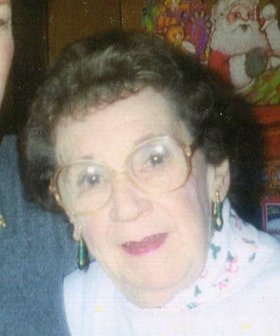 Ann E. Poplawski
March 13, 1912 - November 13, 2011
Ann E. Poplawski, 99, of Lyncourt, passed away peacefully on Nov. 13, 2011, surrounded by her children and grandson at Iroquois Nursing Home.
Ann was born March 13, 1912, in Frostburg, Md, and resided in Lyncourt for 53 years where she was a proud homemaker, mother of six and grandmother to 18.
Ann lived her life to the fullest, she thrived in her kitchen and in her yard; and remained in her home until she was 98 years old. She was one-of-a-kind, irreplacable, and truly timeless. Her numerous stories, lessons and her recipes will live forever in the hearts and minds of those who loved her and cared for her. Her final hours were spent soaking up an abundance of love and laughter. She leaves behind a family that through all trials and tribulations, good times and bad, love each other and are there for each other. No legacy could be more profound.
Ann is predeceased by her husband John F. Poplawski in 1992 and her grandson Michael Pawlewitz in 2010. Surviving her are her children, Shirley (Clarence) Pawlewitz of Liverpool, Joan (David) Rankin of Liverpool, Eleanor (Harry) Goldthwait of Mattydale, Linda Russo of Syracuse, Sharon (James) Monto of Syracuse, and John (Kathleen) Poplawski of Lyncourt. Seventeen grandchildren, twenty-six great-grandchildren, and three great-great grandchildren.
The family would like to extend an immense amount of gratitude to the staff at Iroquois Nursing Home. Your kindness, patience and love granted her dignity both in life and death. No words or gesture could ever be thanks enough.
Services will be held privately at the Krueger Funeral Home, 2619 Brewerton Road, Mattydale. Burial will be in Assumption Cemetery. In lieu of flowers, please make donations in Ann's memory to the North Area Meals on Wheels 413 Church Street. North Syracuse, NY 13212. For more information, photos or to sign the guest book, please visit kruegerfh.com.