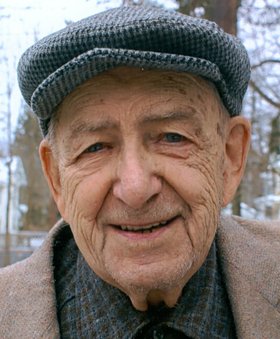 Leon Lanoir
unknown - October 23, 2011
Leon Lanoir, of Cazenovia, passed away on Oct. 23, 2011. Born in Cornol, Switzerland, in 1910, Leon spent time in the Swiss military and enjoyed gymnastics and cycling. Leon left the Jura Mountains in 1930 to seek employment in the restaurant industry of New York City. During his career there he worked in various hotel restaurants including The McAlpin Marine Grill, The Roosevelt Hotel, The Westbury and St. Moritz Hotel. He belonged to the Hotel and Restaurant Employees International Alliance, Helvetia Maennerchor (a Swiss singing society founded in 1858), L'Helvetienne (a Swiss mutual aid society) and the Helvetia Alpina Club. In 1948 Leon was recruited to work in Skytop Club in the Pocono Mountains of Pennsylvania. Leon retired from Skytop as executive chef in 1976. He was married 44 years to the former Mary Kostelnick of Wilkes-Barre, Pa.
He is predeceased by his wife Mary; daughter Yvette and stepbrother James Armstrong of New York. He is survived by his daughter Michelle Lanoir and son-in-law Robert Snashall of Cazenovia; granddaughters Rosette Snashall Lanoir of Cazenovia and Marielle Snashall Lanoir of Fayetteville.
There will be no calling hours. Mass: 9 a.m. Nov. 25, at St. James Church, Cazenovia. Burial will be with family at Laurelwood Cemetery in Pennsylvania. Arrangements are through Tait Funeral Home, Inc.