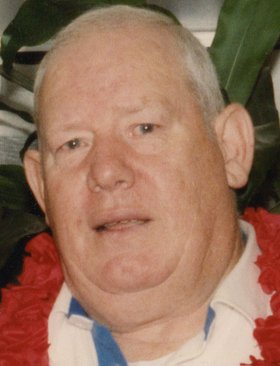 Gary R. Hyatt, Sr.
unknown - November 10, 2011
Gary "Reb" R. Hyatt, Sr., 77, of Rochester, died Thursday, Nov. 10, 2011, at Strong Memorial Hospital. Gary was born in Cherokee, NC, raised in Cleveland, TN, and resided at 124 Medford Drive in Mattydale for 32 years. Then he lived in Myrtle Beach and finally in Rochester, NY, since 2005.
Gary was a graduate of Bradley County High School in Cleveland, TN. He was a U.S. Marine Corps veteran and met his bride while stationed at the American Embassy in Asuncion Paraguay where she worked as a secretary. Gary retired in 1994 after 32 years as a meat cutter for Burnet Market in Syracuse. He was an avid sportsman who enjoyed hunting, fishing, golfing and gardening. Gary attended St. Margaret's Church in Mattydale and Guardian Angels Church in Henrietta.
Gary is survived by his wife of 50 years, the former Pauline (Hanlon); their two children: Gary (Brenda) Hyatt of Constantia, and Katie (Erik Johnson) Hyatt of Henrietta; his two sisters: Karen Brown of Rome, GA, and Suzanne Weir of Boulder, CO; and two grandchildren: Erik Jr. and Kristyn.
Calling hours: 2-5 p.m. Saturday, Nov. 12 at Krueger Funeral Home, 2619 Brewerton Road, Mattydale, with military honors following at 5 p.m. In lieu of flowers, please make donations in Gary's memory to the American Diabetes Association, 356 N. Midler Ave., Syracuse, NY 13206. For more information, photos or to sign the guest book, please visit kruegerfh.com.