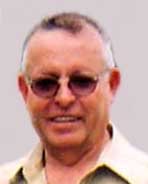 Santos R. Colón
April 9, 1950 - November 2, 2011
Santos R. "Macho" Colón, 61, of Syracuse, passed away Wednesday, Nov. 2, 2011, at Crouse Hospital. Born in Cayey, Puerto Rico on Sunday, April 9, 1950, he moved to Syracuse in 1966. He graduated from Corcoran High School and attended BOCES for welding.
Santos was employed for 32 years with New Process Gear and previously with Jamesville Penitentiary and O.M. Edwards. He loved spending time with his family, and was an avid fisherman. He enjoyed astronomy, working on crossword puzzles, watching documentaries and trivia shows, and reading the newspaper.
Santos was predeceased by his parents, Julio and Elisa Rivera Colón; sisters, Maria and Teresa Colón; and his brother, Juan.
Surviving are his daughter, Chelsea (Brian Steinman) Colón of Camillus; loving companion, Amparo Colón of Syracuse; stepchildren, Amy (Josue) Larrieux, Iveliz (Travis) Connor, Miguel (BobbieJoe) Colón, Emanuel (Kara) Colón, and Edgardo Colón, all of Syracuse; sisters, Leida (Juan Berrios) Colón, Antonia (Daniel Vega) Colón and Julia (Juan Gonzalez) Colón, all of Puerto Rico, and Isabel Colón of Rome, New York; brothers, Perfecto (Carmen) Colón and Cristóbal (Josefina) Colón, both of Puerto Rico; 16 grandchildren; former wife and mother of his only child, Terry Wilcox-Colón of Camillus; and many nieces, nephews, and friends.
Relatives and friends called from 1 to 4 p.m. Sunday, Nov. 6, at Buranich Funeral Home, 5431 W. Genesee St., Camillus. Services were 9:15 a.m. Monday, Nov. 7, at the funeral home and at 10 a.m. in St. Anthony of Padua Church, where a funeral Mass was celebrated with Rev. Robert D. Chryst officiating. Santos was laid to rest in Onondaga Valley Cemetery. In lieu of flowers, contributions may be made to the American Red Cross, 220 Herald Pl., Syracuse, NY 13202. Please share condolences at buranichfuneralhome.com.