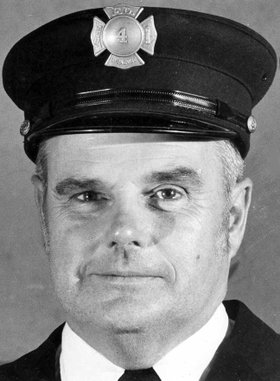 Robert E. Dugan
October 15, 1925 - November 2, 2011
Robert E. Dugan, 86, of Syracuse, passed away Wednesday, Nov. 2, 2011, at Upstate University Hospital at Community General. Born in Syracuse on Thursday, Oct. 15, 1925, he was the son of Thomas Dugan and Frances McCarthy Dugan.
Bob was a firefighter for the city of Syracuse for 37 years. He received the Francis Hendricks Medal award for bravery in the line of duty. He was a Navy veteran of WWII, a fourth degree knight in the Knights of Columbus, and a member of the American Legion.
Surviving are his wife, the former Theresa Dolan; sister, Rosemary Dugan of Syracuse; and several loving nieces, nephews and cousins.
There were no calling hours. A funeral Mass was celebrated at 9 a.m. Saturday, Nov. 5, in Holy Family Church, Fairmount with Rev. Herve Muyo officiating. Burial was private. In lieu of flowers, donations may be made in memory of Bob's life to the St. Jude Tribute Program, P.O. Box 1000, Dept. 142, Memphis, TN 38148. Please share condolences at buranichfuneralhome.com.