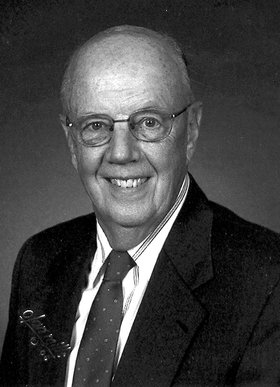 Bruce E. Redfoot
unknown - November 7, 2011
Bruce E. Redfoot, 79, of Baldwinsville, passed away peacefully on Monday, Nov. 7, 2011, at his home. Bruce was born in Greenville, PA, and attended Fredonia High School, where he was salutatorian of his class. He was a U.S. Navy veteran of the Korean War, proudly serving his country on the USS Juneau. After his service in the Navy, Bruce returned to Greenville, where he attended Thiel College, earning his bachelor's degree in engineering. He was a retired employee of the General Electric Corp, retiring after 31 years. Bruce was financial director of the CNY Chapter of Thrivent Financial for Lutherans, and board president of Lutheran Homes. He volunteered extensively with Junior Achievement and Syracuse Habitat for Humanity. Bruce served on St. Paul's Lutheran Church council, including several terms as president. He was also a member of their finance committee, chairman of the Omega Endowment Fund, Sunday school superintendent, St. Paul's Seniors, and the organ committee.
Surviving to cherish his memory is his loving wife of 57 years, Carol Saul Redfoot of Baldwinsville; daughters, Karen (Vern) Kreuter of Webster, NY; Loren (Gary) Riesterer of Manchester, CT; Esther (Thomas) Renne of Cleveland, NY; brothers, Warren (Nancy) Redfoot of Sharon, PA; Donald (Nancy) Redfoot of Greenville, PA; grandchildren, Jeffrey Riesterer, Katelynn Kreuter, V. Corey Kreuter, Emily Renne; and many nieces and nephews. Funeral services will be conducted on Friday, November 11, 2011 at 10:00 am in St. Paul's Lutheran Church, 210 Hazel St., Liverpool.
Calling hours: 4 to 7 p.m. Thursday, Nov. 10, from at the Maurer Funeral Home, 300 Second St., Liverpool. Burial with military honors: Saturday, Nov. 12, in Delaware Cemetery, Fredonia, PA. Contributions in lieu of flowers may be made to St. Paul's Lutheran Church or to Hospice of CNY, 990 Seventh North St., Liverpool, NY 13088.