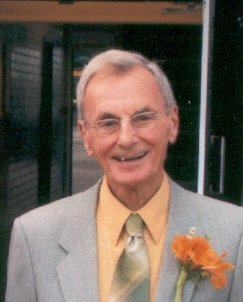 Royston Bragger
unknown - November 4, 2011
Royston 'Roy' Bragger passed away after a brief illness on Friday, Nov. 4, 2011, at University Hospital. Born in Birmingham, England, Roy moved to Baldwinsville 20 years ago, where he lived with his loving wife, Nancy. Roy's illustrious career took him all over the world. He had many great accomplishments, one being appointed the youngest managing director of Archdale's Machine Tool Company, achieved by the age 30. Thereafter he served as managing director of Churchill Machine Tool Company and Thomas Rider and Son Ltd. He retired from Barratt East London Ltd as finance director and secretary. Roy was an avid runner throughout his lifetime, running marathons and competing in many events, including the Empire State Senior Games and winning many Gold and Silver medals. Most recently he was a 'fixture' at the North Area Family YMCA, where he was a member of the board of managers, the finance committee of the YMCA of Greater Syracuse, and the YMCA Men's Club. He was integrally involved in the communication committee for the Northwest Family YMCA.
Roy is predeceased by his parents, Charlie and Elsie (Jones) Bragger, his sisters, Pamela Thomas and Hazel Atkins. He is survived by his wife, Nancy (Blondin) Bragger, brother-in-law, Jeremy Thomas of Coventry, England, his sons, Russell (Kate) Bragger of Walsall, England, and Adrian (Laura) Bragger of Midglamorgan, Wales, and three granddaughters. He is also survived by brother-in-law, Leon Blondin, stepchildren, Linda (Robert) Shepard of Batavia, NY, Michael (Sharon) Jordan, Baldwinsville, Cathleen (Gary) Barber, Charlotte, NC, Casey (Carla) Jordan, Clay, 13 grandchildren and six great-grandchildren. He also leaves behind many, many friends.
Funeral services: 10 a.m. Tuesday, Nov. 8, at Maurer Funeral Home, 300 Second Street, Liverpool, with burial to follow at River View Cemetery, Baldwinsville. Calling hours: 4 to 7 p.m. Monday, Nov. 7, at the funeral home. Contributions may be made to North Area Family YMCA, 4775 Wetzel Road, Liverpool, NY 13090.