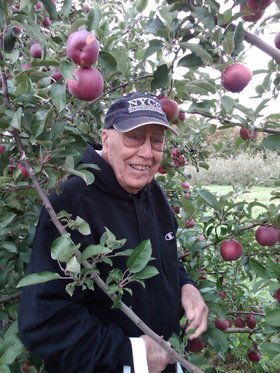 Raymond W. Pluff
unknown - November 29, 2011
Raymond W. Pluff, 97, former Pennellville resident, passed away on Saturday, Oct. 29, 2011 at his daughter's home in Liverpool. Born to his late parents, Raymond and Florence (Zahn) Pluff on July 28, 1914. He was a graduate of Phoenix High School, class of 1933. Ray retired from The Nestle Co., Fulton, as a supervisor in quality control, weights and measures. He was a former Phoenix Lions Club member.
He was predeceased by his wife of then 68 years, Catherine I.(TenBroeck) Pluff on October 22, 2007; his brothers, Francis and Edward. Surviving are his daughter Christine M. (Robert "Turk") Murphy of Liverpool; granddaughter, Nikki Lynk, great-granddaughter, K. C. TenBroeck both of Liverpool; brother, Robert L. (Dooley) Pluff of Phoenix, NY; sister Mildred Radford of Baldwinsville; several nieces and nephews.
Services: , 10:30 a.m. on Friday, Nov. 4, at Saint John's Catholic Church, 8290 Soule Road, (Clay) Liverpool, with the Rev. Father, James T. O'Brien officiating. Burial in Pennellville Cemetery, Co. Rt. 54, Schroeppel. In lieu of flowers, contributions to: Prostate Cancer Foudation. on-line to pcf.org or direct to family. No calling hours. Arrangements by Allanson-Glanville-Tappan Funeral Homes, Inc., Phoenix, NY.