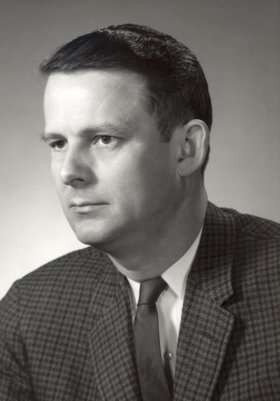 John A.A. Raper
unknown - October 29, 2011
John A.A. Raper, born March 29, 1925, in Coulsdon, Surrey, England passed away peacefully on Saturday, Oct. 29, 2011. He attended the University of London for two years and served in the British Armed Services in Sigapore and Burma after WWII. John came to the United States in 1949 and finished his education at the Engineering College of Pratt Institute in new York City. He joined General Electric in Syracuse in 1952, where he worked in the Electronics Lab in research and development. He was manager of advanced circuits for many years. He retired from GE in 1987.
He was active in the professional organization of the Institute of Electrical and Electronic Engineers, especially the Solid State Circuits Society. He served as editor of the Solid State Circuit Digest for almost thirty years and as chairman of the Conference for many years.
He enjoyed classical music, photography, traveling, gardening and he was an avid reader. He and his wife lived 54 years in Pompey, Sweet Road.
He is survived by his wife of 58 years, Jean L.; sister, Joan W. and cousin, John Maclean both of England. John still had his wonderful humor to the end. Services will be private. There will be no calling hours. For guestbook, please visit scheppfamily.com. To mail a message of condolence, 5781-1 Stonegate Heights Dr., Jamesville, NY 13078.