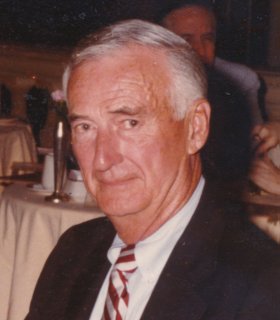 John B. Redmond
unknown - December 25, 2011
John B. Redmond, 92, of Memphis, New York, passed away at home on Christmas Day, Dec. 25, 2011, surrounded by his family. He was born on May 20, 1919, in Brooklyn, NY. John was a graduate of Brooklyn Prep and Georgetown University. He attended Columbia Law School, but left law school to serve in the U.S. Army during WWII as a cryptographic specialist in Tunisia, Africa until the end of the war.
He resided in Cazenovia for many years and subsequently moved to Memphis. He was an innovator in the food logistics industry and founded Empire Freezers of Syracuse in 1960. He retired in 1985, but remained active, helping his sons John and Gerard start River Valley Foods Inc. in 1985. He also participated in the formation of Columbia Valley Foods, Inc., which, in 1995, developed and built a new french fry potato plant in Jamestown, North Dakota. John was a longtime member of the Onondaga Country Club, the Century Club and Winged Foot Golf Club. He was a great athlete and competitor and particularly enjoyed golf and tennis.
Survivors: his wife, Shirley Redmond; his children, John and Abbie Redmond, Helen (Lindy) Redmond, Tom and Pat Redmond, Mary and Lawrence Conroy, Gerard and Georgeann Redmond, Teresa and Charles Andrews, Erik and Cristina Peterson and 17 grandchildren.
He was predeceased by his first wife, Genevieve Shattuck Redmond, and his daughter, Genevieve Hannon Redmond.
He was a communicant of St. Patrick's Catholic Church in Jordan, NY.
Calling hours: 4-7 p.m. Thursday, Dec. 29, at the Falardeau Funeral Home,. 93 Downer St., Baldwinsville. Mass of Christian burial: 10 a.m. Friday, Dec. 30, at St. Patrick's Church. Burial will be in St. Mary's Cemetery, DeWitt.
Those who knew John will remember his straight-forwardness, drive for innovation, his passionate devotion to his Catholic faith and his interest in politics. John was loved and adored by his family and friends and will forever remain in their hearts.
Contributions: In lieu of flowers, to the Jordan-Elbridge Ambulance Corps, 275. E. Main St., Elbridge, NY, 13060 or a charity of your choice.