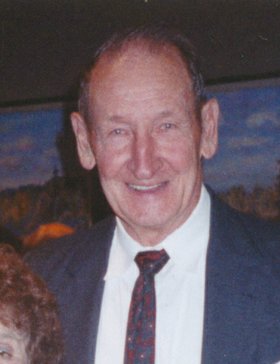 Chester D. Thompson, Sr.
unknown - December 21, 2011
Chester D. Thompson, Sr., 89, of Baldwinsville passed away at home Wednesday, Dec. 21, 2011, with his loving family by his side.
Chester was a WWII veteran, a proud father and hard worker having worked for many years with Dey Brothers and Sibley's as a carpet installer and independently with his buddy, Art Madison. Chester retired from the NYS Thruway Authority after many years of service. He loved fishing, ballroom dancing and had a passion for cooking, which he truly enjoyed. He was a 60-year member of the Masons, Crossroads Lodge #520. Chester was predeceased by his son David Thomas and Daughter Christine Woodberry.
Survivors: Three daughters, Cheri (George) Boyer of Florida, Lorraine Thompson of Constantia and Carole (Kevin) Cary of Texas; two sons, Chester (Rebecca) Thompson of Bridgeport and Kevin Thompson of Syracuse; his beloved companion, Sarah Georgianna of Clay, her children, numerous grandchildren and several nieces and nephews.
Services: 7 p.m. Tuesday, Dec. 27, 2011. at Falardeau Funeral Home, 93 Downer St., Baldwinsville. Graveside services: 10 a.m. Friday, Dec. 30, at White Chapel Memorial Gardens, DeWitt. Calling hours: 4-7 p.m. Tuesday prior to the service. Semper FiDelis.