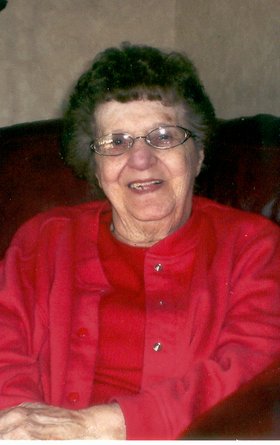 Carmella G. Mancini
unknown - December 21, 2011
Carmella G. "Millie"( Navarro) Mancini, 89, of Liverpool passed away on Wednesday, Dec. 21, 2011, at Loretto. She was born in Pittston, PA, a daughter of the late Vincent and Nancy Navarro. Mrs. Mancini was employed as an assembler with General Electric for several years and also at Elmwood Cleaners for over 25 years. She is a communicant of Immaculate Heart of Mary Church, Liverpool. Millie is predeceased by two brothers and three sisters.
She is survived by a son, Henry M. (Cheryl) Mancini, a daughter, Rose Anne (William) Lovett Jr., three grandchildren, who she enjoyed spending time with, Matthew Mancini, Jerrica Lovett and William Lovett III. all of Liverpool. Also surviving are many nieces and nephews.
Calling hours: 4-7 p.m. on Monday, Dec. 26, at the Maurer Funeral Home, 300 Second St., Liverpool. Funeral services: 8:45 a.m. Tuesday Dec. 27, at the funeral home and 9:30 a.m. in Immaculate Heart of Mary Church, 425 Beechwood Ave., Liverpool with a mass of Christian burial celebrated. Burial will follow in Woodlawn Cemetery.