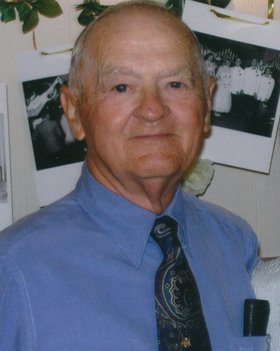 Stanley E. Trexler
unknown - December 18, 2011
Stanley E. Trexler, 79, of Baldwinsville, passed away Sunday, Dec. 18, 2011, at Crouse Hospital. He was born in Plainville and was a 1950 graduate of the Baldwinsville Academy. He was employed at Harris Red & White until he joined the U.S. Navy in 1951 to 1955. Stanley started work for New York Telephone in 1955 until he retired as a special service technician in 1991. He was a member of the First United Methodist Church in Baldwinsville and the VFW Post 2893 in Solvay.
Survivors: his wife of 56 years, the former Helen E. Hotchkiss; children, Steven R. (Winter) Trexler of Rochester, Cynthia L. (Fred) Snyder of Liverpool and Gerald B. Trexler of Baldwinsville; grandchildren, Meghan, Tracy and Scott Trexler and Jaclyn Snyder; and many nieces and nephews.
Services: 11:30 a.m. Wednesday, Dec. 21, at Falardeau Funeral Home, Baldwinsville. Burial, Maple Grove Cemetery, Jordan. Calling hours: 9 to 11:30 a.m. Wednesday at the funeral home, 93 Downer St., prior to the service. Contributions: Greater Baldwinsville Ambulance Corps, PO Box 744, Baldwinsville, NY 13027.