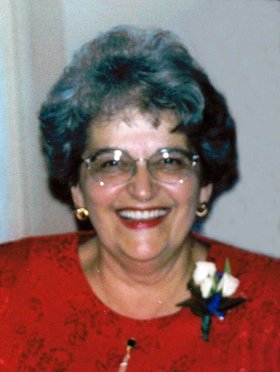 Maria Patriarco
unknown - December 13, 2011
Maria Vita Patriarco, 79, of North Syracuse, died at her home Tuesday, Dec. 13, 2011. A native of Cortland, she had lived in North Syracuse since 1957. She worked as a sales clerk for Sears & Roebuck for over 25 years. Mrs. Patriarco was a communicant of St. Rose of Lima Church and sang in both the church's choir and the funeral choir.
A brother, Joseph Mancini, and three sisters Santina Stone, Adeline Gamel, Antionette Searles predeceased her.
Surviving are her husband of 58 years, Michael J.; a daughter; Michelle (Mark) Alletzhauser of Parish, six sons; Anthony (Nancy) of Ferrum, VA, Michael (Carolyn) of Allentown, PA, Daniel (Annette) of Camillus, Stephen (Jeanette) of Watchung, NJ, Paul (Carol) of Baton Rouge, LA, Joseph of Tully: a sister Palma Ward of Cortland; 18 grandchildren and several nieces and nephews.
Services: 9:30 a.m. Monday, Dec. 19, at Fergerson Funeral Home and at 10 a.m. at St. Rose of Lima Church, North Syracuse, with burial and graveside services following at 1:30 p.m. in St. Mary's Cemetery, Cortland. Calling hours: 2 to 4 and 7 to 9 p.m. Sunday, Dec. 18, at the funeral home, 215 South Main Street, North Syracuse.