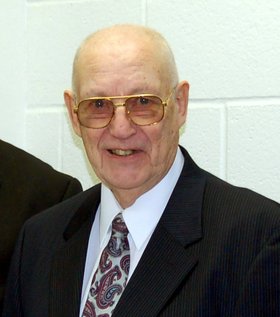 Kenneth L. Woodruff
unknown - December 11, 2011
Kenneth L. Woodruff, 86, of Pine City, formerly of Baldwinsville, died peacefully at his home on Sunday, Dec. 11, 2011. He was born to the late Roy and Olive Woodruff in Plainville. Ken was a graduate of Baldwinsville Academy and was a WWII veteran serving proudly in the U.S. Navy. He was a former member of the Plainville Fire Department and the First Presbyterian Church in Baldwinsville. He worked 37 years for Western Electric Telephone Co. as a switchboard installer retiring in 1983. He was a member of the Moose Club, Elks Club and Eagles Club in the Elmira area for many years. Ken was a sports enthusiast and an avid lifelong fan of the New York Yankees, Syracuse University football and basketball teams. He bowled in several leagues at the Baldwinsville Sports Bowl. He enjoyed hunting, woodworking, collecting coins, baseball cards and old postcards. He especially loved to spend time with his family and friends. Ken was predeceased by his sister Norma Flatt in 1982 and his niece Cynthia Flatt Cantella in 1996.
Surviving are his wife Trudy, his four children, Catherine Mocyk of Baldwinsville, John (Darbie) Woodruff and James Woodruff of Atlanta, GA, and Jay (Wendy) Woodruff of Baldwinsville; seven grandchildren, Dr. C. Shannon Rutledge (Jason) of Atlanta, GA, Jason (Carrie) Mocyk of Jordan, Rachel Mocyk of Fulton, Carrie Mocyk of Atlanta, GA, Aaron Woodruff of Jamaica Estates, (Queens) NY, Justin Woodruff of Snyder and Brendyn Woodruff of Baldwinsville; two great grandchildren Jared and Emily Mocyk both of Jordan; Sister-in-laws Veronica Turner of Elmira, Bernice Gruzlewski of Wellsboro; brother-in-law Charles "Chas" (Francis) Dzikowski of Elmira; a nephew Chuck Turner of Elmira and several other nieces and nephews.
Services: 1 p.m. Monday, Dec. 19, at Olthof Funeral Home in Elmira. Private burial will be in the Woodlawn National Cemetery also in Elmira. Calling hours: 11 a.m. to 1 p.m. prior to the service at the funeral home, 1050 Pennsylvania Ave. Contributions may be made to Mooseheart Child City & School, Inc.- Mooseheart, IL 60539.