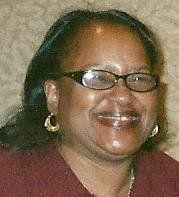 Marcia O. Lewis
unknown - December 9, 2011
Marcia O. Lewis, 63, of Liverpool, formerly of Liberty, N.Y., passed away on Friday, Dec. 9, 2011, with her family by her side. She was born March 6, 1948, in Panama City, Panama. Marcia came to reside in Liberty at the age of 12 and resided there until 2009. She worked for Sullivan County Center for Workforce development for more than 15 years. Marcia dedicated most of her life to helping those in need whether it was housing the homeless, feeding the hungry or just being a friend to count on. Always going above and beyond for anyone and everyone. Her selfless actions touched the lives of all that knew her. She will be remembered as a loving mother, sister, daughter and friend.
She was predeceased by her father Joseph Lewis and her son Alvin Lotts, Jr. Surviving to cherish her memory are her mother Veronica Lowe; brother, Joseph R. Lewis (Gloria); sister, Philomena Wright; daughters, Keanah Patterson (Kevin); Amalia Swan (Jim); and daughter-in-law Roxanne Lotts; grandchildren; Jihad, Promise, Darnell, Luisa, Nick, Gabriella, Alaysia, and Kendar. Niece and nephews, David, Dion, Andrea and Ivan, and a host of cousins, family, and close friends.
Funeral services: 2 p.m. Thursday , Dec. 15, at the Maurer Funeral Home Moyers Corners, 3541 Rt. 31 Baldwinsville. Burial will follow in Our Lady of Peace Cemetery, Clay. Calling hours: 10 to noon prior to the funeral services. Contributions in Marcia's memory may be made to the Food Bank of Central New York, 7066 Interstate Island Rd., Syracuse, NY 13029.