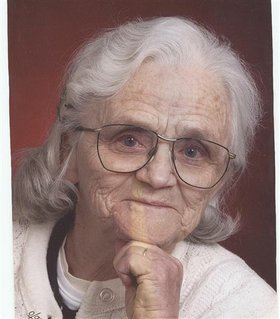 Neva B. Peters
unknown - December 1, 2011
Neva B. Peters, 92, of Auburn, went to be with the Lord on Thursday evening, Dec. 1, 2011. Born in Lysander, Neva lived in Elbridge before moving to Auburn 30 years ago. She was the widow of Frederick H. Peters who died in 1984. Neva was a long time faithful member of Second Baptist Church of Auburn. On a daily basis, through prayers and letters Neva reached out in support of many missionaries and young people connected with her church.
She was predeceased by four children, Frederick, Jr., Paul, Nora Mae Centers and Ruth DeBarr.
Surviving are 4 sons Richard E. of Auburn, John R. of Salisbury, MD, James E. of Vestal, and Douglas L. Peters of Watertown, 4 daughters Beverly Weyhrauch of Medina, NY, Linda Brownlee of Chadron, NEB., Virginia Hudson of Binghamton, and Jane Arold of Owasco, a sister Vera Sauve of Syracuse, 37 grandchildren, several great and great great grandchildren.
Services will be 11am Tuesday in 2nd Baptist Church of Auburn. Spring burial will be Mt. Pleasant Cemetery. Friends are invited to call 4-7pm Monday at the Bush Funeral Home 120 E. main St. (Rt. 5) Elbridge. Contributions may be made to 2nd Baptist Church for youth ministries or Missionary outreach.