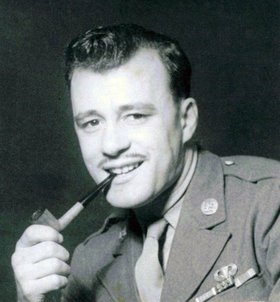 Sam J. Crouse
unknown - December 5, 2011
Family and friends mourned the loss Monday, Dec. 5, 2011, of Sam J. Crouse who died at Loretto of complications of COPD and Diabetes. Mr. Crouse, 89, of North Syracuse was the son of the late Lawrence and Antoinette DeMarco Crouse.
Sam was a graduate of Central High School, Syracuse, and was a WWII veteran having served his country for three years with the 12th General Hospital Corps in England, France and Belgium. After returning home, he worked for many years in roofing, refining his trade, and in later years became a self employed roofing contractor.
After retirement, Sam and his wife Ellen, became involved in many volunteer efforts within the community, such as Hospice of CNY, the Samaritan Center, and visiting many visits to local nursing homes, sponsored by St. Rose of Lima Church where both Sam and his wife were communicants for many years.
Sam was well thought of in the community and amongst family and friends, as he was an honest, reliable, self-made and self-educated man. Many years of hard work and responsibility for his family precluded his continued formal education, however, he continued always to teach himself and was well versed on almost any subject and a delight to be around. Family and friends mourn the loss of a wonderful human being.
Mr. Crouse is survived by his wife, Ellen Thompson-Crouse; two sons, Philip (Sylvia) of Hastings and Peter (Kathleen) of Albany; a sister, Ann Green; five grandchildren and five great-grandchildren. He was predeceased by his brother, James and sisters, Lucy Houze, and MaryAnn Bounanno.
Services: 9:30 a.m. Friday, Dec. 9, at Fergerson Funeral Home and at 10 a.m. at St. Rose of Lima Church, North Syracuse. Burial with military honors will follow in North Syracuse Cemetery. Calling hours: 4 to 7 p.m. at the funeral home, 215 South Main Street, North Syracuse. Donations may be made to the St. Rose of Lima School Endowment Fund, 409 South Main Street, North Syracuse, NY 13212.