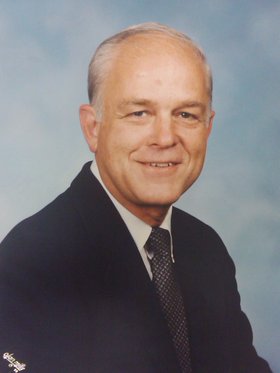 Roger R. Consaul R. Consaul
unknown - December 6, 2011
A longtime resident of Skaneateles, Roger R. Consaul passed away peacefully Dec. 6, 2011, in Fredericksburg, VA after a long battle with Parkinson's Disease and its related conditions. Roger was born in Clayton, N.Y., on Feb. 7, 1936, to Floyd Miles and Beatrice Frances (nee Calhoun) Consaul. Roger lived throughout his childhood in Upstate New York, while occasionally spending summers selling flowers as a child in New York City. He graduated from Cazenovia High School in 1953.
Roger married Ellen Beuchat on June 18, 1955, at St. James Roman Catholic Church in Cazenovia. Roger earned a bachelor's degree in industrial engineering from Syracuse University in 1957, where then-Senator John F. Kennedy was the commencement speaker. Roger was supported in his education at Syracuse through the generosity of Mr. Russell Chrisman of Fayetteville, whose belief in the value of higher education provided the opportunity for Roger to attend college.
Early in his career, Roger worked for Westinghouse Corporation and the family moved to North Hampton, N.H., before returning to Central New York in 1966. Following that, Roger spent the remainder of his career in management at Niagara Mohawk Power Corporation (now NationalGrid) retiring in 1993.
A lifelong lover of sports, Roger played football and basketball at Cazenovia High School, skied downhill and cross country, and particularly loved the game of golf. He began his infatuation with golf while working as a caddy at Onondaga Country Club in Fayetteville. He was a die-hard Syracuse University football and basketball fan and would also cheer for the Buffalo Bills.
Roger leaves behind his beloved wife of 56 years, Ellen, two children: Russ of Lovettsville, VA and Sheila of Reston, VA; and three grandchildren: Ryan Darby Consaul of Alexandria, VA, Christopher John Consaul and Gabriel Justin Consaul of Lovettsville, VA. Roger is also survived by a half brother, John Pluff of Parish and two half sisters, Renee Pluff Kitts of Parish and Jeannie Pluff Ventre of Liverpool.
Services for Roger, a devoted Christian: Monday, Dec. 12, in Skaneateles at St. Mary's of the Lake Catholic Church. Robert D. Gray Funeral Home is handling the arrangements. In lieu of flowers, contributions can be made "In Memory of Roger R. Consaul" to the Dean's Fund, L.C. Smith College of Engineering and Computer Science, Syracuse University, 820 Comstock Ave., Syracuse, NY 13244-5040. To send condolences visit: robertdgrayfuneralhome.com.