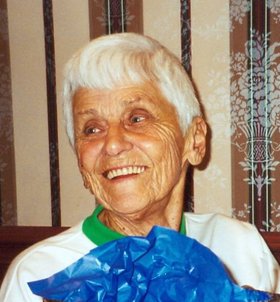 Pauline Moryl
unknown - December 5, 2011
Pauline "Pede" Moryl, 86, of DeWitt went to heaven on Monday, Dec. 5, 2011. She was born in Deferiet, N.Y. to Catherine (Peltz) and Samual Ganeriski. She was predeceased by her loving husband, Edward Moryl; sisters, Mary Ganeriski, Helen Werner, Sophia Leana, Mildred Ganeriski and Albina Ganeriski.
She is survived by daughter and son-in-law, Pam and Charlie Collins; grandson, Christopher Collins; sister, Bernetta Miterko; and several nieces and nephews. Special thanks to her wonderful caregivers who made her life fun and comfortable.
Services: 11:45 a.m. Thursday, Dec. 8, at Eaton-Tubbs Fayetteville Chapel and 12:30 p.m. at Holy Cross Church, DeWitt. Burial will be in St. Mary's Cemetery, DeWitt. Calling hours: 4 to 7 p.m. Wednesday, Dec. 7, at the funeral home, 7191 E. Genesee St., Fayetteville. For directions, florists, or a guestbook, please visit scheppfamily.com. Contributions in memory of Pauline may be made to Holy Cross School, 4112 E. Genesee St., DeWitt, NY 13214.