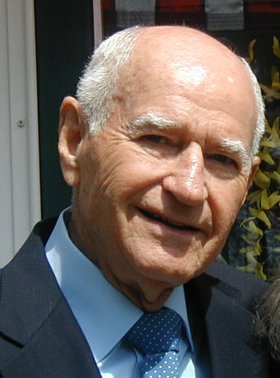 John J. Powers
unknown - November 30, 2011
John J. Powers, 88, of Marietta. passed peacefully Nov. 30, 2011, with his family at his side. Born on Staten Island, N.Y., John graduated from St. Peter's High School. His education at Manhattan College was interrupted when his entire class enlisted in the armed forces during WWII. John served as a Navy pilot on an aircraft carrier, and after his discharge, graduated from Hobart College.
In 1950, John was recruited by the United States Secret Service and rejoined his country's service as a commissioned USSS Special Agent. He had the honor of protecting U.S. Presidents and the families of Presidents Truman, Eisenhower, Kennedy, Johnson and Nixon. John served as assistant to the special agent in charge of the New York Office until his retirement.
John is predeceased by his three siblings Alice Garrity, Katherine Smith and William Powers.
A beloved husband, father and grandfather, John is survived by his wife of 53 years Ellen Kathleen Powers; four children John (Olga) of Marcellus, Edward of Chinatown, NYC, Michael (Sharon) of Dana Point, CA, and Mary (Robert) Kuzmeski of Hadley, MA; nine grandchildren Mary and Julie Powers, Colin, Daniel, Dennis and Sarah Powers, Kathleen, John and Kevin Kuzmeski; one brother Richard of Florida and many nieces and nephews.
Calling hours were 11 a.m. to 1:15 p.m. Saturday, Dec. 3, at Ryan Funeral Home, Marcellus. Services followed 1:30 p.m. at the funeral home and the mass of Christian burial was then celebrated 2 p.m. in St. Francis Xavier Church, Marcellus. Burial was at St. Francis Xavier Cemetery.
Contributions may be made to St. Francis Xavier Church Outreach Program, P.O. Box 177, Marcellus, NY 13108.