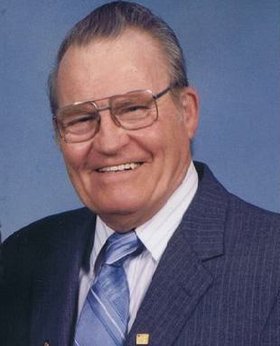 Roy J. Nuss, Sr.
unknown - August 30, 2011
Roy J. Nuss, Sr., 83, of Baldwinsville, passed away Tuesday Aug. 30, 2011, at Crouse Hospital. He drove the Red Cross blood mobile for years as a volunteer alongside his wife Helen. Sometimes he worked two or three jobs to provide for his family. He was a WWI Navy Air Force Veteran, A&P aircraft maintenance. He was a assistant Boy Scout scoutmaster for many years, earning the order of the arrow and many leadership awards. He was Elk of the year at Liverpool Elks Lodge and was top cerebral palsy fund raiser at the Elks lodge for two years. He was married to Helen L. Nuss for 52 years who passed away in 2001. His mother Hildred I. Nuss and father Carl Roy Nuss are buried in Mesa, AZ. He loved to hunt and fish.
Surviving: A daughter, Susan D. Hyland of Baldwinsville; two sons, Michael J. of Auburn and Roy Jr. (Ruth) of Beacon Falls, Conn.; and grandchildren, Anthony, Samantha, Victoria, Benjamin and Jack.
Services: 1 p.m. Friday Sept. 2 at Gates Funeral Home, Inc. Burial will be in Chase Cemetery, Lysander. Calling hours: 11 a.m. to 1 p.m. Friday at the funeral home, 29 W. Genesee St., Baldwinsville.