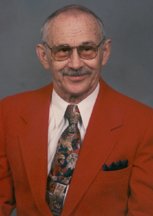 Howard H. Keene
unknown - August 28, 2011
Howard H. Keene, 93, Central New York's well known master ice cream maker, of North Syracuse, died on Sunday Aug. 28, 2011, at James Square. A life resident of the Syracuse area, Howard was a 1936 graduate of North High School. He had been actively making ice cream for 55 years and was a master of "taste" creating 24-36 new flavors of ice cream each year including unique and delectable flavors, as well as his own version of the standard vanilla. No product was sold unless his personal "approval" stamp was on it.
Howard's first store was "Keene's Top of The Hill" in the Hullar Building in Fayetteville where he was known as "Tracer", because of the 1940's radio show, "Mr. Keene, Tracer of Lost Persons." He later purchased "Shafer's Ice Cream Shop" on Court Street, which was a hang-out for many St. John the Baptist Academy students, he became known as "Doc." Howard became associated with Marble Farms Dairy on Grand Avenue in 1962, and was their resident master specialist for 30 years. Marble Farms honored him in 1990 on his 52nd anniversary in the ice cream business and his 72nd birthday. He retired in 1992 at the age of 74 to pursue his hobby of stained glass creations. He was a communicant of St. Rose of Lima Church in North Syracuse, and Christ the King Church where he was an usher and custodian.
Howard is survived by his loving wife of 66 years, Ann Beaudoin Keene of North Syracuse; son, Mark (Judy) Keene of Norwich, NY; daughter, Carol K. Linhart of Shawnee Mission, KS; grandchildren, Michael Linhart and Kristin Mack; great-grandchildren; Kaylee Mack, Antonio Linhart, Gabriella Mack; and several cousins.
Funeral services: 10 a.m. Saturday Sept. 3 in Christ the King Church, 21 Cherry Tree Circle, Liverpool. Entombment will follow in the Resurrection Chapel of St. Mary's Mausoleum, Dewitt, NY. A calling hour: 9 to 10 a.m. before the funeral mass. Contributions in Howard's memory may be made to the Dominican Monastery, 802 Court St., Syracuse, NY 13208.