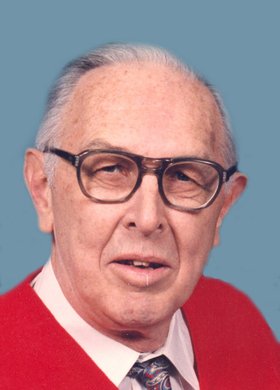 Thomas Bassett
unknown - August 18, 2011
Thomas Geer Bassett, 82, of Syracuse, passed away Thursday Aug. 18, 2011, at home. One of four sons of Clark Lodge and Gertrude Geer Bassett, he was born in Detroit, Mich., on Monday March 18, 1929. Tom's wife, Patricia Sibbert Bassett, predeceased him on Nov. 24, 2006, after 55 years of marriage.
Tom graduated from the University of Michigan with both a bachelor's degree in mechanical engineering and a master's degree in nuclear engineering. He was a registered professional engineer in both New York and Michigan. He was a 55-year member of the American Nuclear Society, having become a charter officer of the University of Michigan's student branch in the mid 50s while in college.
Tom took occasional evening post-graduate courses at Southern Methodist University while employed at Convair in Fort Worth, TX. Early in his career, he was included in "Who's Who in Atoms?" He was employed in Michigan at the Enrico Fermi Nuclear Station and later at the Big Rock Point Nuclear Station where he assisted in nuclear-reactor operator training.
Tom retired from Niagara Mohawk Power Corp. in 1990 after more than 25 years service in the licensing, design and construction of Nine Mile Point Units #1 and #2 near Oswego.
Tom was a parishioner of St. Luke's Episcopal Church in Camillus where he was also a lay eucharistic minister, reader, choir member, warden, vestryman, diocesan convention representative and property committee chairman.
Due to an unfortunate incident in a restaurant in about 1970, Pat and Tom resolved to learn some first aid. They decided to become emergency medical technicians. Both succeeded with Tom joining the Taunton Volunteer Fire Department and both becoming charter members of Western Area Volunteer Emergency Services. They participated in the training of the first group of WAVES EMTs in the early 1970s. Tom volunteered over 25 years with WAVES, serving at various times as president and assistant director of operations and more than 30 years with Taunton. Tom received two Firefighter of the Year Awards with Taunton for certain selfless actions. Onondaga County awarded him an Emergency Medical Services Lifetime Achievement Award. He also served Taunton at various times as president, vice-president, foreman and treasurer.
Surviving are his daughter and son-in-law, Elizabeth B. and Thomas Finneran of Sumner, Washington; sons and daughters-in-law, Raymond C. and Patricia Bassett of Webster, and Kenneth M. and Penny Bassett of Camillus; brother and sister-in-law, Richard H. and Diane Bassett of Yakima, Washington; seven grandchildren; three great-grandchildren; and numerous nieces and nephews.
A memorial service was at 10:30 a.m. Saturday Aug. 27 at St. Luke's Episcopal Church, 5402 W. Genesee St., Camillus with Rev. Craig R. Swan officiating. Subsequent to donation of his body to SUNY Health Science Center, Anatomy Dept., Tom and Pat's cremains will be interred simultaneously near Tom's parents and paternal grandparents in Forest Hill Cemetery, Ann Arbor, Michigan. Arrangements were by the Buranich Funeral Home, Camillus. In lieu of flowers, contributions may be made to St. Luke's Episcopal Church, P.O. Box 91, Camillus, NY 13031 or to your favorite charity. Please view the Bassett Video Tribute and share condolences at buranichfuneralhome.com.