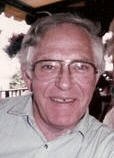 Andrew R. Tedesco
February 24, 1929 - August 28, 2011
Andrew R. Tedesco, 82, of Scottsdale, AZ, and Sandy Pond, passed away on Sunday Aug. 28, 2011, in Baldwinsville. Andy was born in Buffalo, on Feb. 24, 1929, to Leon B. Tedesco and Alma E. Roth. Andy was a graduate of the Manlius Military School and received his Bachelor of Science degree from Syracuse University, where he was a member of Phi Delta Theta Fraternity and was Stroke of the JV Crew. He was an ROTC student, was commissioned as a lieutenant and served in the U.S. Air Force as a personnel officer.
Andy and his father Leon purchased Baldwinsville Furniture and Appliance in 1960, which became Andrew's Furniture in 1978 with stores in Baldwinsville and Fayetteville. He served on the West Genesee School Board for 10 years and served two terms as president. Andy had a passion for life and a most inquisitive mind, as his family often referred to him as an "infomaniac."
Andy is survived by his wife, Pat, whom he was married to for nearly 26 years, his children Andrew Tedesco, Roger Tedesco (Ellen), Ellen Fay (Jim) and Carol Ann Wingrove ; stepchildren Lisa Collins (Mike), Holly Sofia (Marty), Kevin Kelley (Sandra), Christopher Kelley and predeceased by Sean Kelley; and 16 grandchildren and three great-grandchildren.
Calling hour: 11 a.m. on Saturday Sept. 3, followed by a memorial service at Gates Funeral Home, 29 West Genesee Street, Baldwinsville, NY. In lieu of flowers, the family requests donations be made in Andy's name to Hospice of Central New York, 990 7th North Street, Liverpool, NY 13088-3148.