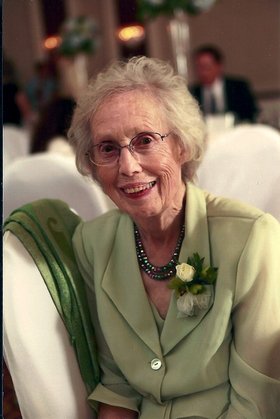 Ruth B. Lucas
December 13, 1927 - August 23, 2011
Ruth Barrett Lucas, 83, a longtime Cazenovia resident, went to be with her Savior on July 23, 2011, at Crouse Hospital, with her loving family at her side. Ruth was born Dec. 13, 1927, as the 13th grandchild born on Friday the 13th in Syracuse. She was the daughter of Frederick Barrett and Frances Chapman Barrett. Ruth graduated from LaFayette High School in 1944 as the valedictorian and was also a graduate of Watertown School of Commerce. She worked for the telephone company and lived at the Brick House in Syracuse before raising her family. Ruth was a devoted member of Community Covenant Church in Manlius and a tireless worker at Vacation Bible School and church events. Her greatest joys were her family, her faith and baking her famous cookies for all events. Ruth married the love of her life, William H. Lucas, on April 30, 1949, in Cazenovia. He predeceased her in November 1980.
Ruth is survived by her children, Karen (Wayne) Piersma of Rome, NY, Marva (William) Spuller of Eaton, NY, Kirk Lucas of Woodstock, MD, Linda (Bruce) Fraser of Lockport, NY, Christine (Jim) Attard of Foster City, CA, and David (Robin) Lucas of New Woodstock, NY; 15 grandchildren; three great-grandchildren; her sister and brother-in-law, Jean and Charles Yorton of Cazenovia; and her nieces and nephew.
Funeral Services were held on July 28 at Tait Funeral Home. Interment was in the family plot, next to her husband, in Evergreen Cemetery in Cazenovia. Donations may be sent to Community Covenant Church, 107 Pleasant Street, Manlius, NY 13104; or to The Arthritis Foundation, Upstate New York Chapter Syracuse Office, P.O. Box 126, Fayetteville, NY 13066.