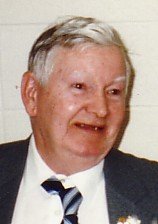 Fredrick R. Surdam
unknown - August 27, 2011
Fredrick R. Surdam, 83, of Weedsport, passed away Saturday Aug. 27, 2011, at Auburn Nursing Home after a brief illness. The son of Fannie and John Surdam, he was born in Auburn and lived in the Central New York area his entire life. Fredrick retired from the Skaneateles Central School district in 1991 after more than 20 years of service as a custodian. He also served in the same capacity for 25 years at St. Andrew's United Methodist Church in Mottville.
Fredrick was a 44-year member of the Mottville Volunteer Fire Department, where he served as Fire Police Captain and Assistant Secretary. He was also a one-time member of the Soarers' Club. Fredrick enjoyed gardening, fishing, model airplanes and was especially fond of his cats and passing out treats to the neighborhood dogs.
Fredrick is survived by his loving wife of 62 years, Beverly E. Surdam; his children Pamela J. Wilbur of Auburn; Gail L. Surdam of Mottville; James R. Surdam of Canandaigua; Daniel (Margaret) R. Surdam of Skaneateles; Kimberly A. Harris of St. Augustine, Fla.; and Tammy (Gregg) M. Schoenborn of Elbridge; 11 grandchildren; two great children; several nieces and nephews; and numerous beloved family pets.
Calling hours: 2 p.m. to 4 p.m., and 7 p.m. to 9 p.m Wednesday Aug. 31 at Robert D. Gray Funeral Home, 49 Jordan St., Skaneateles. Funeral service: 10 a.m. Thursday Sept. 1 at St. Andrew's United Methodist Church, Jordan Road, Mottville, immediately followed by burial service at Highland Cemetery in Marcellus, with a reception following. In lieu of flowers, memorial contributions may be made to St. Andrew's United Methodist Church, Jordan Road, Mottville, N.Y., 13119 or the Mottville Fire Company, 4149 Frost Street, Mottville, N.Y., 13119. To send condolences visit: robertdgrayfuneralhome.com.