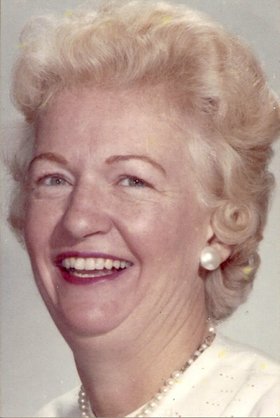 Marjorie L. Whitney
August 26, 1919 - August 13, 2011
Marjorie L. Whitney, 91, formerly of the Valley died peacefully with her family and friends around her on Aug. 13, 2011. She was born Aug. 26, 1919 in Saugus, Mass., raised there, and spent her summers with her Mother's family in Boothbay Harbor, ME, her favorite place in the world. Marjorie was an accomplished pianist and organist who graduated from Lowell State Teachers College, Lowell, MA, with a bachelor's degree in music, and devoted her life to playing beautiful music in praise of God, and to lift the spirits of the elderly and infirm. She was organist and choir director in Methodist Churches in Saugus, Melrose, Whitman MA, Boothbay Harbor, Pultneyville, Hannibal, Phelps and Jamesville. She taught music in schools in Massachusettes and New York, gave piano lessons, and regularly volunteered to play piano and lead sing-alongs at local hospitals, nursing homes, and senior citizen complexes. She enjoyed playing for minstrel shows, and as part of the chorus and as a soloist for Manlius Senior Troup and Onondaga Chorus. She was a wonderful mother and role model to her children, encouraging them to sing, work hard and become involved in church and their communities. She led a gentle, kind, and Christian life filled with strong faith, a great sense of humor, and much love in her heart. She was pre-deceased by her parents, her brother Mark Johnson, her sister Daryl, and her daughter Nancy Carroll.
Marjorie is survived by her daughter and son-in-law, Merrilee and Randy Frese, her son Bradd, her sister Lucy, five grandchildren, 11 great-grandchildren, and one great-great-grandson.
Private services were held and burial next to her beloved daughter Nancy in Onondaga Valley Cemetery.
Her family will always be grateful to the aides and nurses on the 5th floor north at Van Duyn for their exceptionally fine care provided to Marjorie over the past several years.
Arrangements by B.L. Bush & Sons Funeral Home, 10 Genesee Street, Camillus, NY 13031.
Please sign guestbook at blbush.com.