The Rotary Club of Baldwinsville's 20th annual Seneca River Day will take place from 10 a.m. to 10 p.m. Saturday, June 14 at Mercer Park in Baldwinsville. The event is free to the public.
Guests can expect to experience a day filled with craft, community and food booths, a Classic car show sponsored by Horan Financial Services, an Art in the Park exhibit, Syracuse Model Boat Club demonstrations every half hour and a variety of children's activities including bounce houses, a magician, contests, storytelling and caricatures. New this year is the Teddy Bear picnic which begins at 4 p.m.
Among the many family-friendly events that day, one of the main attractions is the Great Seneca River Duck race. Approximately 3,500 plastic ducks will get dunked to determine who wins prizes that include cash, gift certificates and gift baskets full of items from local businesses. First place is $1,000 cash.
All the funds raised by the duck race go to the Rotary Club of Baldwinsville, which uses them to fund programs for senior citizens, scholarships for high school seniors and make donations to other local organizations that address vital needs in our community.
Tickets are $5 each or you can buy a flock of 6 for $25. You can get your tickets from any Baldwinsville Rotarian, email senecariverday@yahoo.com or buy tickets at Seneca River Day. Rotarians will also be at the Baldwinsville Farmer's Market on Wednesday, June 4 and again on June 11.
Additionally, Anything that Floats begins at 4 p.m., live music by the Mike McKay Band begins at 7:30 p.m. and a fireworks display, sponsored by Hudson and Mowin, starts at 9:30 p.m.
'Anything That Floats'
Registration is open for anyone interested in an entertaining race down the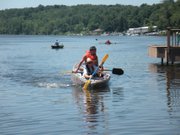 Seneca River.
The Rotary Club of Baldwinsville's 20th annual Seneca River Day will once again feature the popular Anything That Floats contest. Participants are asked to create a floating vessel from non-traditional materials and then paddle or sail it down the Seneca River. This year's race will take place at 4 p.m. Saturday June 14.
(Continued on Next Page)
Prev Next
Vote on this Story by clicking on the Icon