continued — Long term, we live in an era of budget cuts and belt-tightening. As we saw recently in the debate over charging fees to people living outside Onondaga County, libraries are constantly looking for creative ways to keep from reducing necessary services. These debates will only get more heated as already squeezed homeowners rightfully resist ever-higher tax rates. I will listen to the community at every opportunity to reflect and respect the opinions of our neighbors.
In the short term, the library has announced a nationwide search for a new director, so I am sure the trustees will be working hard over the summer, sifting through resumes and interviewing candidates to lead the library. I hope to be there as this process moves forward and a new director is eventually hired.
Molly English-Bowers
Biographical information:
I am 53 years old. For 13 years I worked as the editor of the Syracuse New Times; before that, I edited Syracuse Parent, where I ran a monthly column about books you can find at the library. It was written by Ann Nagle, the now-deceased public information officer for the Onondaga County Public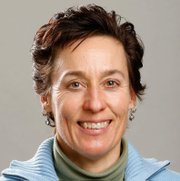 Library system. My current job is communications director at Service Employees International Union Local 200United, headquartered on James Street. Research has been a vital component of all three jobs, and I have spent many an afternoon in the public library and Syracuse University's Bird Library. I have lived in Liverpool since 2007. In addition to my husband Charles Bowers, I have two children and three stepchildren. I am a registered independent.
Why are you running for office?
Libraries are a vital resource to any community. It is important that we adequately fund the Liverpool Library's services — local history, preschool story times, teen programs, book clubs, guest speakers, musicians and, of course, the circulation of books, periodicals, CDs and DVDs. I want to make sure that the library can continue to serve the needs of the community, most importantly offering as many free services as possible.
Vote on this Story by clicking on the Icon