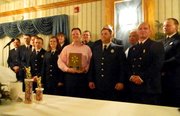 Wampsville — Last October, the Cazenovia Volunteer Fire Department and the Cazenovia Area Volunteer Ambulance Corps (CAVAC) responded to one of the most difficult calls they had ever faced — the rescue of 10-year-old community member Charlie Thompson after he fell down an 18-foot-deep well. The indefatigable efforts of members of both organizations that night seven months ago saved Charlie's life.
Last week, in recognition of their feat, the entire companies of both CVFD and CAVAC jointly received the highest honor bestowed by the Madison County Volunteer Firemen's Association — the Fireman of the Year award.
More than 30 members of both organizations, as well as Charlie's parents, Kevin and Rosemary Thompson, attended the MCVFA banquet last Friday, May 9, at the Rusty Rail on Canastota.
Cazenovia Fire Chief Nick Enders, who submitted the award nomination to the county organization, said that although emergency responders are behind-the-scenes people who do not do what they do for recognition, he wanted them all to receive recognition for the miracle they achieved that night in October 2013.

"It was one of the most difficult calls we've ever had," Enders said on accepting the award for his department. "The firefighters from our department, along with CAVAC crew, New York State Police, Madison County Shieriffs and Cazenovia Village Police Department started the process the help Charlie with great purpose and teamwork. Then the incredible staff at Galisano Children's Hospital continued the effort. Because of everyone's hard work and dedication during the call, Charlie is on his way to a full recovery."
Madison County Emergency Services Coordinator Joe DeFrancisco presented the award, and read in full the nomination letter submitted by Enders.
As DeFrancisco read: The event occurred when Charlie, at the time age 10, was playing hide-and-seek at a Halloween party at a house on State Route 92. Trying to hide, he climbed over a rock well onto an old well cover that broke, plunging him 18 feet to the water below. It is unclear how long he was in the well before adults at the party were notified and emergency crews were called.
(Continued on Next Page)
Prev Next
Vote on this Story by clicking on the Icon