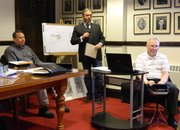 Cazenovia — There will be no new Circa restaurant location at Eric Burrell's building at 4 Chenango St. — and maybe not even an extension of his office space to grow his business if his neighbors have their way.
Burrell has withdrawn his application to the village for a requested zone change for his office building in order to build an extension and house the popular local restaurant that needs a new location, it was announced at the May 5 meeting of the village board.
Burrell still plans to build an extension to his building but for office space only and not for a restaurant, and he therefore has amended his zone change request accordingly. The Chenango Street neighbors who opposed the restaurant proposal also spoke out at the meeting to oppose the office extension idea, with a lawyer for one of the neighbors saying it would be a non-conforming use and therefore cannot be allowed.
Burrell's announcement, as well as his description of his new plans, was discussed during a public hearing on the issue which lasted for about an hour and was attended by about 80 people.
"I appreciate that there were so many people in the community that supported the Circa move, but we listened to the neighbors and have heard them say that a restaurant would be unbearable," Burrell said. "I still support Alicyn [Hart] and will help her find a better location than she's in now."
Burrell's proposal — officially submitted to the village planning board by Burrell's company, Pro-Tel Properties II, LLC — was first brought before the village board in January, when he unveiled his plan to build a two-level, 2,500 square-foot addition to the back of his building and have Circa move into the first floor. Circa has been located at 76 Albany St. for the past eight years, but Hart, who leases the 1,200-square-foot space, said she and her landlord could not agree on a new lease agreement so she will move her restaurant to another location by the end of May.
(Continued on Next Page)
Prev Next
Vote on this Story by clicking on the Icon