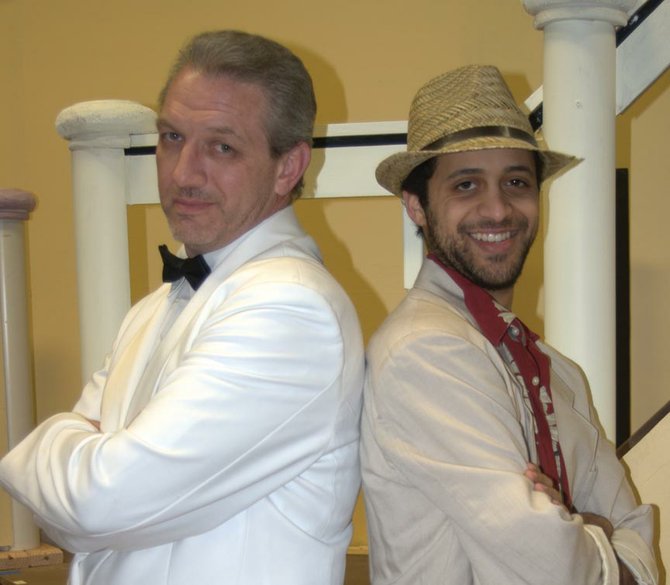 The con is on when two disparate gigolos compete for the affections – and assets – of wealthy women at a French Riviera casino, in the Baldwinsville Theatre Guild's musical production, "Dirty Rotten Scoundrels," which opened here April 25.
Written by Jeffrey Lane with songs by David Yazbek, "Dirty Rotten Scoundrels" was first produced on Broadway in 2004, based on the 1988 movie of the same name starring Steve Martin and Michael Caine.
Because it's a comedy, the play's scammers' implausible pretenses suggest whimsy rather than debauchery. Under the direction of Trevor Hill, two strong lead actors are ably supported by a lively ensemble to deliver a thoroughly delightful evening of entertainment.
Veteran actor Rob Searle stars as suave and sleek playboy Lawrence Jameson who's challenged by the green and grating newcomer Freddy Benson portrayed by Maxwel Anderson, one of CNY's bright new lights.
It's stock comedy – think city slicker vs. country bumpkin – but these two milk it for all it's worth and then some. Anderson's devil-may-care character gets a few more laughs than Searle's smooth operator, but their complementary natures are what really make the show go.
Jameson sums it all up when he assesses Freddy. "What you lack in grace," he observes, "you make up for in vulgarity."
Searle and Anderson revel in numbers such as "All about Ruprecht," "The Reckoning" and the closer, "Dirty Rotten Number." On their lonesome, Anderson excels on "Great Big Stuff" while Searle soars on "Love Sneaks In."
The Act 2 opener, "Ruffhousin' Mit Shuffhausen," has Jameson masquerading as a Viennese psychiatrist called in by the lovely Christine Colgate (played by Jennifer Pearson), to cure the supposedly paralyzed Benson. All three sing "Ruffhausen" which climaxes in a yodel so painful it's funny.
A true-love subplot brings Jameson's French valet, Andre, into the boudoir of the dowager Muriel Eubanks. Jay Burris portrays Andre while Kathy Egloff plays Muriel. Burris displays a deft sense of humor singing "Chimp in a Suit," while Egloff's crystalline voice adds pathos to "What Was a Woman to Do." Together, Burris and Egloff consummate their characters' relationship with "Like Zis/Like Zat," a carefree ditty that inspires smiles on every face.
(Continued on Next Page)
Prev Next
Vote on this Story by clicking on the Icon