The halls and classrooms of Waterman Primary School were buzzing with activity on March 26 as Skaneateles teachers and students from all grades exhibited science, technology, engineering and math programs.
The event, dubbed "STEMAhead," was the district's first-ever open house that gave parents and members of the community an opportunity to see some of the unique programs that go on inside the schools, particularly those facilitated by technology that wasn't available a generation ago.
Interim Superintendent of School Judy Pastel said the idea behind the event was to "unzip" the classroom and allow members of the community to see firsthand some of the things that take place.
"I wanted us to have an open house with STEM and technology across the disciplines because there is such great teaching and learning going on in the classrooms," she said.
The event was presented in partnership with the Skaneateles Education Foundation which has provided the district with many grants that have allowed for the purchase of new equipment, Pastel said.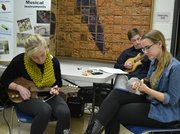 Most recently the foundation, along with the Elementary Parent Teacher Committee, provided the district with a set of GolidBlox, a learning tool designed help teach engineering skills to elementary-age girls.
Late last year the foundation also announced a partnership with the Elsa and Peter Soderberg Charitable Foundation, who will help with grants for STEM programs and technology.
Using new technology and teaching methods in the elementary schools was one theme of the evening. In Cafeteria B, fifth grade students demonstrated their use of programming software that works with Lego robots, while elsewhere pathologists Cheryl Tompkins and Laura Vincent demonstrated how Waterman students can participate in speech therapy programs using iPad apps.
In addition to highlights of the mandatory curriculum, the open house featured class work from elective classes and some extra-curricular clubs and programs.
(Continued on Next Page)
Prev Next
Vote on this Story by clicking on the Icon