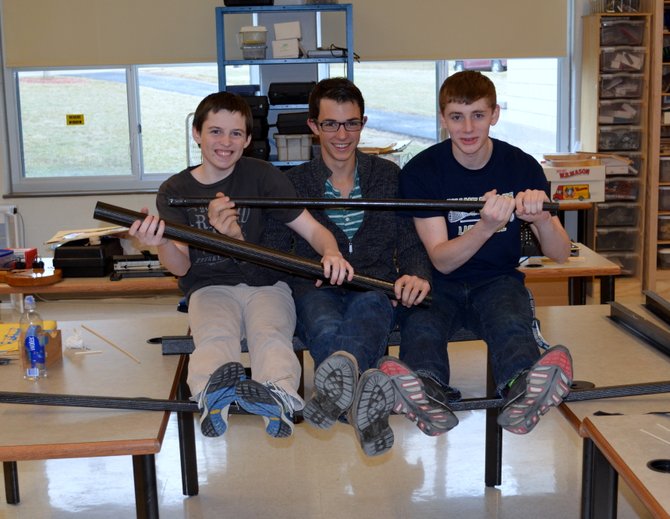 Community members will have a rare look inside classrooms from kindergarten through high school during a special event called STEMAhead on Wednesday, March 26 at Waterman School.
From 7 to 8:30 p.m., teachers and students will demonstrate how they are using technology to enhance learning in subjects ranging from science, English and music.
The open house is a combined effort of The Skaneateles Central School District and the Skaneateles Education Foundation.
Interim Superintendent Judy Pastel said this is a fun, educational and unique opportunity for everyone in the community. "How often do community members get to go inside classrooms to interact with students and hear about what they are learning and what it means to them?" she asked.
She said the goal is "to highlight what the teachers and students are doing, and to give them the opportunity to shine in front of members of the community and parents."
Visitors will see "an overview from the five year old to the graduating 18-year-old."
She said the Board of Education and the administrators have "a great deal of for what is happening in the classrooms with students and teachers and we want share that with the community."
At the open house:
Visitors will also see how subject areas merge and compliment, for the good of the student. For example, when technology teacher Matthew Slauson joins music teacher Karen Veverka, there is "Musical instrument manufacture and design, a collaboration with technology classes, the music department, and Allred Associates."
Slauson and French Teacher Sandi Taylor will present "C'est la Vie! Creating a French Board Game: a collaboration with French 4/5 and technology classes."
Middle School Library Media Specialist Sharon O'Connell will show how technology connects the world in "Skyping to Make International Connections."
Cheryl Tompkins and Laura Vincent will show "ipad Applications in Speech Therapy," while Waterman School teacher Mary Arnott and students will show all the fun and learning that is going on inside the Waterman STEM Lab.
(Continued on Next Page)
Prev Next
Vote on this Story by clicking on the Icon