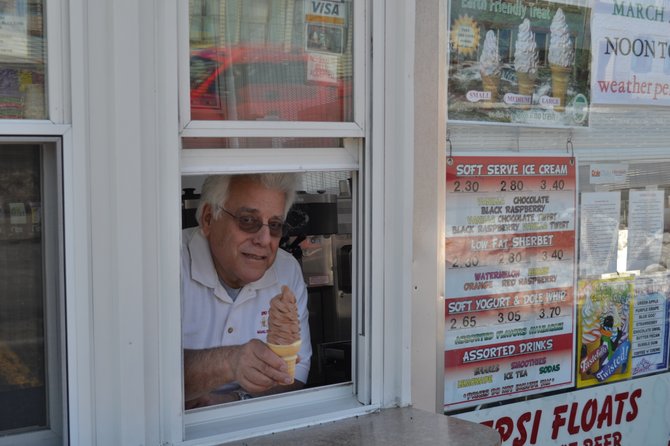 Manlius — If you live in or around Syracuse's eastern suburbs, chances are you've been to Sno Top. And if you haven't, you are missing out – at least that's what some of the ice cream shop's most loyal fans say.
"I don't think you can get anything as good anywhere else in the country and I have driven cross-country five times," said Heidi Rumazza Baxter, who now lives in Seattle. "I loved going to Sno Top as a kid in my dad's convertible, our favorite family evening (and daytime) treat. I now bring my kids when I travel through on our road trips – one of our favorite stops!"
So what is it that has allowed Sno Top to rise to the top of pack and become not only a Central New York ice cream landmark, but a one of the Syracuse area's most treasured destinations?
"I always felt we were successful because we have a quality product, excellent service, it's always spotlessly clean and we try to always have a reasonable price," said Kathy Giordano, who has owned the shop with her husband, Vince, for the last 40 years.
"And you meet your friends here," Vince added. "You run into your friends in line and start talking while the kids are eating their ice cream and playing on the wall – it's a community place."
Growth in Manlius
Sno Top was opened at its location on East Fayette Street in the heart of the village of Manlius in 1957 by Wilbur Chapman, who owned the property that now houses the Manlius Village Centre and the plaza next door. Construction began in 1956, and on July 10, 1957, Sno Top officially opened its windows for business.
According to the Giordanos, Chapman and his family ran the shop for a couple years before selling it to the Brooks family. Brooks sold the shop to Eugene Eighmey, who also owned it for just a couple years before selling it the Vail family, who also happened to own the ice cream stand at Suburban Park, less than a mile away on Route 92. Attendees of the former amusement park may remember a young man who managed that ice cream stand for the Vails at the time – and that young man just happened to be Vince Giordano.
(Continued on Next Page)
Prev Next
Vote on this Story by clicking on the Icon